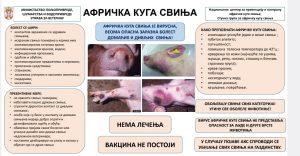 In the territory of the Republic of Serbia, in several municipalities, as well as in the territory of the municipality of Bijeljina, with which the municipality of Bogatić borders, African swine fever (ASF) appeared as a particularly dangerous and contagious disease of domestic and wild pigs with the ultimate outcome of the death or killing of all pigs on the infected farm.
This disease is not a zoonosis, i.e. people do not get sick from it. The causative agent of AKS is a virus. It often happens that the first sign of the disease is a loss of appetite, but most often the owners find dead pigs. In sick pigs, the following are observed: elevated temperature, redness of the skin (most often on the muzzle, ears, tail, legs, stomach and laterally on the loins), abortion, depression, uncertainty when walking, difficulty breathing, coughing, vomiting and bloody diarrhea. The virus, the causative agent of the disease, is highly contagious, the disease spreads rapidly and causes great economic losses.
On this occasion, we appeal to all agricultural holdings in the territory of the municipality of Bogatić to report to the competent veterinary station each of the above-mentioned symptoms if they appear, and to report every death of pigs of any category.
Also, it is necessary to strengthen the disinfection measures of farms, i.e. mandatory disinfection of footwear, equipment and tools upon entry. It is necessary to prohibit entry to the farm to all persons except the owner and the veterinarian. For veterinarians upon entry, provide their own shoes and disinfectants and as one of the most important measures, never buy piglets without ear tags, health certificates and on the street (unregistered markets).
We also appeal to the hunting sections in the territory of the municipality to report every instance of a dead wild boar as well as the illegally dumped carcasses of domestic pigs.
---