Janko Veselinović, writer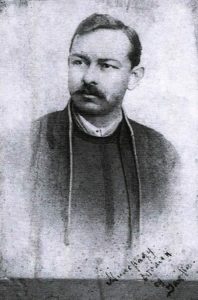 "He gave so much both with abundance and value that he can rightly be considered one of our best and most prolific writers, one of those who create a literature and give it a special character", said the authoritative Jovan Skerlić for Janko Veselinović, who is hereby added: "One of our writers compared Janko Veselinović with Vuk Karadžić, and that comparison is not without basis. Both of them knew folk life and the folk soul like few others, both were inspired by the folk spirit, and while one collected folk crafts and customs, the other recounted folk tales, or described folk life and expressed the folk soul." Janko's ancestors on his father's side moved to Mačva from Herzegovina in the 18th century. century, and settled in Agin Salaš, today Salaš Crnobarski.
Janko's father, Miloš, was the first from this family to leave the difficult farming life and dedicate himself to the priestly vocation; mother Jelisaveta comes from the distinguished priestly family Popović from Badovina. Miloš and Jelisaveta had nine children, and their firstborn, Janko, was born on 1 May 1862 years...
Milorad Panić - Surep, writer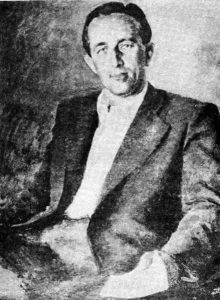 Milorad Panić, poet and prominent cultural worker and activist, was born in Glogovac on 27 January 1912 years. Already in his high school days, he showed great interest in literature. As a high school student, he participated in literary evenings in Šabac and surrounding towns. Since he was brought up and brought up in libertarian traditions, he added the name of his ancestor Surep, an insurgent and mačvan hajduk, to his name. For the rest of his life, he will proudly carry this name, which means the old wolf leader. He graduated from the Faculty of Philosophy in 1936. already as a well-known young poet, he got a job in the Editorial Office of Politics. In the first post-war years, Surep was still actively engaged in literature. Therefore, it is not surprising that he was elected as the first secretary of the Writers' Association of Serbia.
In the summer of 1947 Surep was entrusted with a new responsible duty - the establishment and organization of the Institute for the Protection and Scientific Study of Cultural Monuments of Serbia. Under his leadership, the first lists of our old cities, monasteries, churches, treasuries, icons, manuscript books and other important remains of our rich culture were made. heritage...
Milić Stanković - Milić from Mačva, academic painter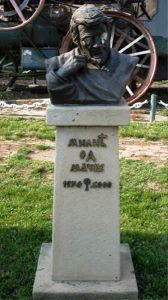 Milić Stanković (Milić of Mačva) was born on 30 October 1934 in Belotić, and died on 8 December 2000 in Belgrade. He is one of the most eminent Serbian painters of the 20th century. He graduated from the Academy of Fine Arts (today, the Faculty of Fine Arts) in 1959. years. After that, he was on a study stay in Paris. The first solo exhibition was opened by 1. September 1959 In Belgrade. He had his first solo exhibition abroad in 1964. in Geneva. He has been a member of ULUS since 1960. years. During 1964 and in 1965 lived and worked in Paris, then in Belgrade, Brussels, Belotić, Zlatibor and Piros (Greece).
He was one of the 13 members of "Medijale". His paintings are dominated by floating logs, followed by glowing balls and icebergs. In addition to painting, he was also involved in architecture (he designed and built three studios), sculpting and writing poetry. He was buried in the Alley of meritorious citizens at the New Cemetery in Belgrade. In the center of Bogatić, the Municipality of Bogatić erected a memorial in respect and memory of the great artist.
Milivoje Martinović - Martin, a legend of the Mačvan theater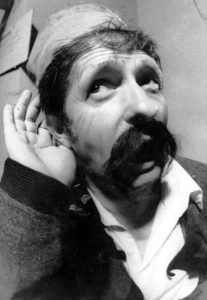 If there was no theater in heaven until twenty-six years ago, the dilemma of whether "boards mean life" in the other world really ceased to exist in 1980. year, when Bogatić said goodbye to Milivoj Martinović - Martin. He certainly founded a theater there as well and now directs, acts, paints... Because it's only been a short time since 1933. when he was born, to be brought all, to the bottom of his being, into the magic of the theater and burned up in his short life.
For decades, Milivoje Martinović was the pivot of Bogatić's cultural life. Economist by education and profession, actor, painter, director, scenographer - by vocation. He never understood the theater as a profession, a struggle for a salary and a career. Theatrical play was his greatest love, the magic he enjoyed, with which he played, bringing joy and cheerfulness to the stage.
Way back in 1951. In 2008, just one year after the gathering of fans in acting in, who would have guessed then, the long-lived and successful Amateur Theater "Janko Veselinović", Martin staged Nušić's one-act plays "World War" and "Kirija". From year to year, other plays were staged on the stage in Bogatić - "Prank", "Alien", "Extinguished Hearth", "Wind over Serbia", "Suspicious Face", "People's Representative", "Koštana"... He invested his whole self, all his talent and energy in each of them. He was also a scenographer, prompter, actor... Nothing was difficult for him - to drive nails, stretch curtains, load and unload props... He directed more than ten plays, realized 17 roles, designed countless scenographies. It is an impressive work for a short life...
Dragan Martinović, academic painter
Dragan Martinović was born in Bogatic, in Mavča, in 1957. years. He grew up next to his father Milivoj, a theater director and painter, and Milić from Mačva, the founder of the Mačva painting school. He started painting in his early childhood and at the age of fifteen he became a member of the aforementioned group. Already at the age of seventeen, he exhibited for the first time independently in Šabac, in 1975. years. 1976. In 2010, he entered the Academy of Fine Arts in Belgrade, where he completed his basic and postgraduate studies in the class of Professor Zoran Petrović. Immediately after completing his studies, he starts intensive exhibition activity.
He exhibited as a group at more than two hundred exhibitions in the country and abroad. He exhibited independently over 140 times in the country and abroad (Sabac, Belgrade, Sremska Mitrovica, Novi Sad, Kragujevac, Opatija, Subotica, New York, Hong Kong, Munich, Paris, Be, Athens, Milan...)...
Dragan Đuričić – academic painter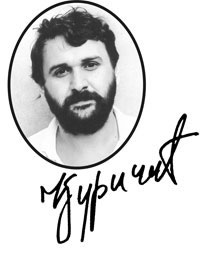 He was born in 1961. in Bogatić. He graduated from the Academy of Fine Arts in 1988. years. Died 6. June 2003 years.
Painter of the plains and the human soul
Poor beggars, sleepy drunkards, old-fashioned faces, chaste beauties with swollen breasts, knights made of opan, emerge in the June heat around the bier of a sleeping portrait painter, eternally in love with classic realistic, figurative painting, unforgettable baroque masters Rubens and Rembrandt. The knees of his peasant woman who has loaded a heavy basket of corn, and the play of light on the Drina beach creates a beautiful figure and shape of the bather. Out of the sweltering heat emerge old apprentices, knitted balloons of plum wine, flintlock flintlock rifles and holsters. For a moment, rotten pears, rotten yellow quinces, ripe custard apple and axinka, as well as the forgotten salty, sloppy, and thickets of the homeland flash by.
Lovers of Impressionism, in which the artist occasionally looked for inspiration, remain silent. The people of the silent procession cannot come to terms with the inescapable fact. Dragan Đuričić, the academic painter of the great Serbian plain and the human soul, suddenly and silently passed away in the Lord.
Dr. Mladen, Mlađa Milošević, doctor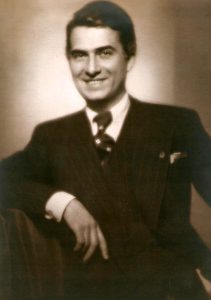 Dr. Mladen Milošević, born in Šumadija, graduated from medical school and received his doctorate from the prestigious Sorbonne in France, where he went through Albania with the Serbian army in 1915. and from where he returned to help his poor and unenlightened Serbia, from December 1924. year he tied his fate to Macva. He was then 27 years old.
Along with Mačva, he soon fell in love with a girl from this area, Radmila Mojašević from a reputable trading house in Šabac. They got married in 1925. built a house in Bogatić according to the project of architect Branislav Kojić. In it, Dr. Mlađa, as his Macvani called him, in 1929. opened the first private surgery in Mačva. Among other things, he equipped the office with an X-ray machine, and he used his private car as an ambulance to transport patients to the Šabac hospital. He treated the poor for free, and on the prescriptions he wrote messages to the pharmacist Đorđević that he would pay for the medicines of his poor patients himself.
On the list of the Yugoslav Radical Community in 1938. In 2010, he was elected as a representative of the Mačva district in the National Assembly of the Kingdom of Yugoslavia. Stenographic notes from parliamentary sessions testify that he often appeared for the floor, and most often spoke about the position of the peasants. He continued his educational mission in 1939. with the establishment of the newspaper "Podrinski odjek" - a newspaper for economic, cultural and political renewal. But the shadow of the Second World War loomed over Europe. On the occasion of the German aggression against France, former French students Dr. Mladen Milošević and lawyer Nemanja Stanković wrote to the French ambassador in Belgrade that the peasants of the famous Mačva, who were the first victims in 1914. year, express the heroic people of France's readiness to defend freedom together and manifest once again their brotherhood in arms and indelible friendship.
Duke Archpriest Nikola Smiljanić
Nikola Smiljanić was born in the village of Badovinci around 1760. (or 1777), and grew up in Belotić and Šabac. Nikola Smiljanić was adopted by Jeka Radojicina, a widow, who was engaged in trade in Šabac. She educated and married Nikola Smiljanić, after which he was ordained a deacon and later a priest. As a deacon, Nikola Smiljanić was for a time a teacher in Belotić.
Archpriest Nikola Smiljanić was married to Mitra, the daughter of Prince Mihailo Ružićić from Metković in the Počer principality of Šabac nahija, whose scribe at one time was Miloš Stojićević, Stojićević's progenitor.
Duke Kitogkitsk Nikola Smiljanić participated in both the First and the Second Uprising.
Duke Nikola Smiljanić was poisoned by Marko Štitarac on the orders of Prince Miloš.
Archpriest Nikola Smiljanić had a daughter who married Jovan Radovanović, a merchant in Šabac called "Ćurčija".
Stojan Čupič - Dragon of the Night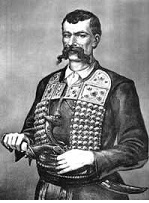 He lost his parents at a very early age, so even though he was young, but also the oldest in the family, he decided to move to Serbia. With his three sisters, he headed to Mačva to Crnobarski salaš, where his paternal grandfather lived. Although at the end of the 18 century in Serbia, there were no schools where children could learn to read, Stojan somehow managed to do it, probably, it is believed, in one of the monasteries in Mačva.
In Crnobarski Salaš and its surroundings, he started trading livestock. The bright, nimble and determined young man was noticed by Strahinja Čupić from the neighboring Noćajski salaš.
He liked the young man, so he suggested that he adopt him. Stojan accepted it and added his stepfather's surname Čupić to his name. Strahinja granted him some land and instructed him how to cultivate it.
Legends in Serbia say that Čupić came across buried money three times in his fields.
At the beginning of the rebellion against the dahi, Stojan Čupić was a mature, responsible, but also enterprising Serbian host. He did not like the Turks, he was a great patriot and knew how to handle all kinds of weapons. He immediately gathered a company of reliable Mačva boys, defected to the insurgents and began to block roads and passages, making it impossible for the local Turks to move.
He was one of the most important dukes of the First Serbian Uprising, also known as the Night Dragon. He distinguished himself in the battles on Mishar (where he challenged and defeated the Turkish hero Musa Sarajli) and on Salas. In the battle at Glavica across the Drina, Cincar saved Janka. He was remembered in the folk epic song "Zmaj od Noćaj". His real surname was Dobrilović, but since he was orphaned as a child, he was moved to Šabac, where he was adopted by a wealthy merchant, Strahinja Čupić. He was also known as a good orator, and Karađorđe's words speak for that: Whoever outbids Čupić and writes about Moller, I will give him whatever he asks for.
Miloš S. Milojević - historian, politician and writer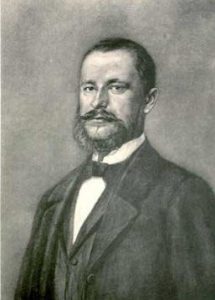 Miloš S. Milojević - historian, politician and writer
He was born in Crna Bara on 16 October 1840 years. His father was a priest. He finished high school in Belgrade, where he graduated in 1862. graduated from the Faculty of Law. Then he goes to Moscow where he continues his education. He graduated from the Faculty of History and Philosophy simultaneously studying comparative philology of living and extinct Slavic tribes with political and comparative literature. Encouraged by the acquired knowledge, it was publicly advertised for the first time in 1866. year article of Propaganda in Turkey, given that the Serbs were still under foreign rule at that time. He also founded the Second Department of the Seminary, for which he selects students from all Serbian regions under the Turks and urgently prepares them for teachers and priests in unliberated regions.
About three hundred students passed through that school, and soon, at the request of Milojević, under his supervision, Volunteer and Uprising detachments were created, whose military contribution was immeasurable /J. H. Vasiljević/ during the Serbian-Turkish war of 1876-1878, when he distinguished himself as a volunteer commander. Hence the book Serbian-Turkish War 1876-1878. Mr.
He died on the 24th. June 1897 in Belgrade and buried at the New Cemetery. He devoted a good part of his life and work to raising national consciousness among the Serbian people.
Panta Mihajlović – telecommunications engineer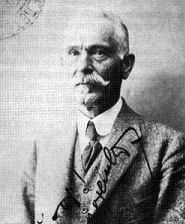 Panta Mihajlović (born in 1854 in Bogatic) was a Serbian engineer and pioneer in the field of telecommunications. He introduced the first telephones in Belgrade.
He graduated from an electrical engineering school in Vienna, then went to Switzerland, and from there to Berlin, where as a recognized expert he joined Siemens-Halske. He was appointed head of the Siemens-Halske company in New York in 1873. Since 1875 he is back in Serbia where he starts work in the technical department of the military factory in Kragujevac.
1882. received a concession for the construction of telephone stations in Belgrade and Serbia.
Between the buildings on the corner of Bulevar Kralja Aleksandar and the engineering barracks on Palilula, he introduced the first telephone line in Belgrade on 14 March 1883
In 1885, he became the head of the Telegraph and Telephone Department of the Directorate of State Railways. In 1905, he became an expert for examining the poor state of the electrical network in Belgrade. He was also the supervising engineer of the power station at the court from 1908.
He died on the 7th. February 1932 in Belgrade, from pneumonia and heart paralysis at the age of 78. year of life.
Branko Đurković - conductor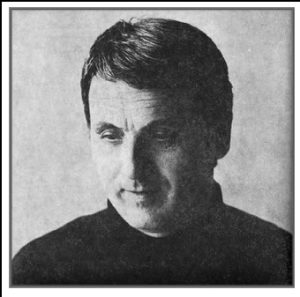 Conductor Branko Đurković was born in Dublje, not far from Šabac, on December 23, 1937. years.
He was educated in Dublje, Šabac, Sarajevo and Belgrade. He finished elementary school in Dublje, and studied at the Music School (clarinet department), Gymnasium and Teacher's School in Šabac. He graduated from the Higher School of Music in Sarajevo, and the Faculty of Music (Department of Music Theory) in Belgrade. He studied conducting for two years with Professor Mihailo Vukdragović, and completed his postgraduate studies (the first master's degree in conducting in SFRY) at the FMU in Belgrade in the class of Professor Vojislav Ilić in 1978. years.
He first worked at the Elementary School "Sele Jovanović" in Šabac, then at the Music and Teacher's School. He spent eight years as a high school professor at the Pedagogical Academy in Šabac.
September 1979 In 1980, he was elected as a professional associate for the course Choral Conducting at the Faculty of Music in Belgrade, and in 1980 became an assistant professor at the same faculty. In 1986 he was elected as an associate professor at FMU, and since 1991 until his retirement in 2003. years, he spent at that faculty as a full professor, where, in addition to choral conducting to regular students and postgraduates, he also taught basics of vocal technique to conducting students and music theory, as well as conducting exercises to composition students.
Borisav - Bora Simić Joja was born on Christ Day, 27 September 1929 in the village of Glušci in Mačva. "In the deafening silence of muddy and dusty shores" — as emphasized by Dr. Vladeta Košutić in 1967. in the Anthology of Serbian peasant poets "Cvetnik". Misunderstood by the environment at all times, Bor was born by his mother Ljubica, born in the same village, from the Kostadinović family. He got his last name from his father Dušan, a Thessaloniki resident, who was wounded in the village of Stara Popadija, in front of Kajmakčalan. He completed only four grades of elementary school in his native village, and later read exclusively from torn newspapers, which he found hanging on thorny field bushes as a shepherd. He devoured vague and disjointed texts, always eager for new knowledge about the world. His teacher was Mihailo Đurić, an imaginative man who later joined Bori in 1939. and in 1940 taught religious studies, which fueled his imagination even more, ensuring that he would become a poet in the future. Thus, reading newspaper papers blown from thorns and thorn, he removed the Bor in Kućište from such a bush in 1953. report from "Borba" about the oldest peasant poet Živan Stevanović from Brestovac in Gruša.
Miroslav Mića Berić – basketball player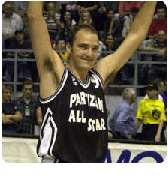 Miroslav Berić (January 1, 1973 Bogatić) is a former Yugoslav and Serbian basketball player. With the Yugoslav national team, he won a silver medal at the 1996 Olympic Games. in Atlanta, the gold medal at the 1998 World Championships. and gold medals at the 1995 European Championships. and in 1997 He was the best scorer of the Superliga in 2001. while he was playing for Partizan.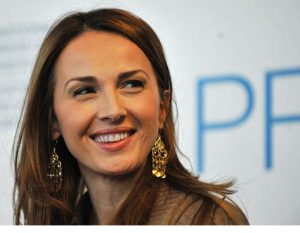 Aleksandra Radović was born on 10 September 1974 in Bogatić. She graduated from secondary music school in Šabac and the Academy of Music in Novi Sad. From 1998-2002. In 2008, Aleksandra recorded jingles and announcement credits for TV Pink, and became one of the most sought-after backing vocalists in SiCG. In 2000, she performed independently for the first time at the "Sunčane Skale" festival, where she performed with the song "Bori se", and three years later, at the same festival, she performed with the song "Kao so u moru" with which she won 2nd place. place. After two months, he releases his first solo album for "City records". She won numerous awards for singer of the year and best interpretation. He also has his own Singing School where he works with young and talented people.