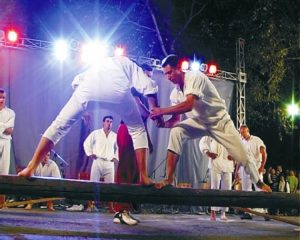 The life of the hero, described in the novel "Hajduk Stanko" by Janko Veselinović, encouraged the boys from Crnobar to back in 1966. organize a competition for the selection of Hajduk Harambasha. This first bachelor's competition grew into a big event of the municipality of Bogatić - "Hajdučko veče", which is organized every year in the month of August. The main idea of this event is to remind the new generations of the life of their ancestors, to enjoy the beauty of the former life, and for the older Macvanians to remember the time of their youth, which was much closer to the old customs than today.
During the program, visitors to the event "Hajdučko veče" can see a Mačva wedding, an exhibition of local handicrafts, an exhibition of the Mačva Art Village, attend an evening of poets from Mačva, a competition for the selection of a harambasha, a competition for the most beautiful carriage, and observe a cultural and artistic program performed by folkloric amateurs and entertainers. artists. Part of the program is held in Bogatić and Sovljak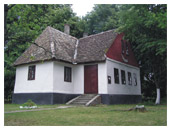 On the area of the planned ethnic park, with an area of about 1.5 hectares, there is a typical Mačva homestead from the region 19. and the beginning 20th century. The yard consists of a central, spacious residential building and several auxiliary buildings (barn, garden shed, stable, wheelhouse, bread oven, porch for agricultural tools), located mostly around the perimeter of the yard.
A spacious yard with an old, branching linden tree and low, lush boxwoods gives the yard a special ambient value.
Sovljak is located on the road Bogatić - Crna Bara, five kilometers from the municipal center of Bogatić and the same distance from the river Drina. In the Ethno-park, a piece of old Mačva has been torn away from the past - an authentic courtyard with a garden, more than a hundred years old. The courtyard is dominated by a house, built in the second phase of construction in Mačva, of the "Osećan" type, typical for that time - with two entrances, i.e. entrance and exit and a sundial indicating the exact time. Next to the house is an old linden tree whose trunk is 1.80 meters in diameter and which provides shade with a 30-meter diameter with its magnificent canopy.