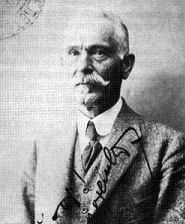 Panta Mihajlović – telecommunications engineer
Panta Mihajlović (born in 1854 in Bogatic) was a Serbian engineer and pioneer in the field of telecommunications. He introduced the first telephones in Belgrade.
He graduated from an electrical engineering school in Vienna, then went to Switzerland, and from there to Berlin, where as a recognized expert he joined Siemens-Halske. He was appointed head of the Siemens-Halske company in New York in 1873. Since 1875 he is back in Serbia where he starts work in the technical department of the military factory in Kragujevac.
1882. received a concession for the construction of telephone stations in Belgrade and Serbia.
Between the buildings on the corner of Bulevar Kralja Aleksandar and the engineering barracks on Palilula, he introduced the first telephone line in Belgrade on 14 March 1883
In 1885, he became the head of the Telegraph and Telephone Department of the Directorate of State Railways. In 1905, he became an expert for examining the poor state of the electrical network in Belgrade. He was also the supervising engineer of the power station at the court from 1908.
He died on the 7th. February 1932 in Belgrade, from pneumonia and heart paralysis at the age of 78. year of life.